Is Oracle JD Edwards Dead?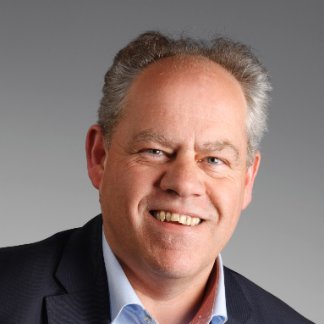 Author: Jack van den Brink,
Partner @Quistor
In this cloud era people often think only cloud native products are still alive and more 'ancient' systems are just not there any longer – they have ceased to exist. Ever since PeopleSoft bought JD Edwards and then Oracle bought PeopleSoft the competition in the Enterprise Resource Planning (ERP) domain has tried to convince companies that JD Edwards has no future, will soon be dead or even no longer exists. But luckily all these competitors are completely wrong.
Of course, JD Edwards has internal competition from other Oracle products like Cloud ERP and NetSuite, but we also see Oracle JD Edwards is very strong in certain areas where NetSuite and Cloud ERP just aren't that robust (Asset Intensive, Manufacturing and Distribution, and Consumer Goods).
Customers see the added value and benefits of Oracle JD Edwards. The new customers selecting Oracle JD Edwards do so because of the specific industry solution or its proven capabilities in their line of business.
Currently, Oracle JD Edwards is on release 9.2. This is the latest release but certainly not the last. There is a big misunderstanding that this is the last release and there will not be a 9.3 release.
Indeed, we shouldn't expect 9.3 but, using the same analogy of cloud products, Oracle JD Edwards will move from a three-year new release cycle to various updates per year based on the 9.2 release. So, 9.2 is the most recent one for at least the next few decades! Even better, Oracle JD Edwards support has just been extended until 2030. This extension proves that the promise made, when support was extended until 2028, that the release deadline would be reviewed every few years is true. So, 2030 can easily become 2032, 2034 or even 2036!
Besides the support extensions, the Oracle JD Edwards product team in Denver has done great work in delivering substantial numbers of enhancements and new functionalities, as shown in Figure 1.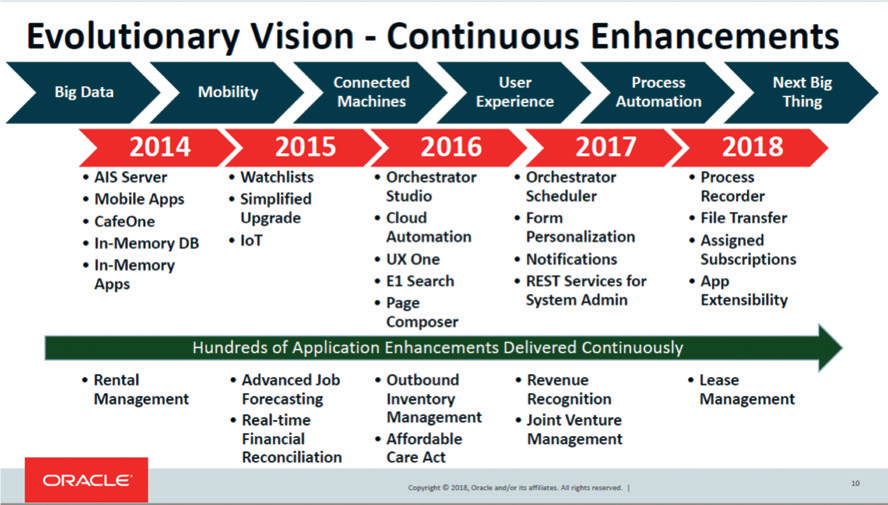 Oracle JD Edwards is transforming from 'wall-to-wall ERP' to a platform for digital transformation (Figure 2). The core still is the very stable and strong traditional Oracle JD Edwards platform and toolset, but recent developments such as Application Integration Server (AIS), Orchestrator, Notification and other features such as UX One, CafeOne and other personalisation features make Oracle JD Edwards a digital ready platform.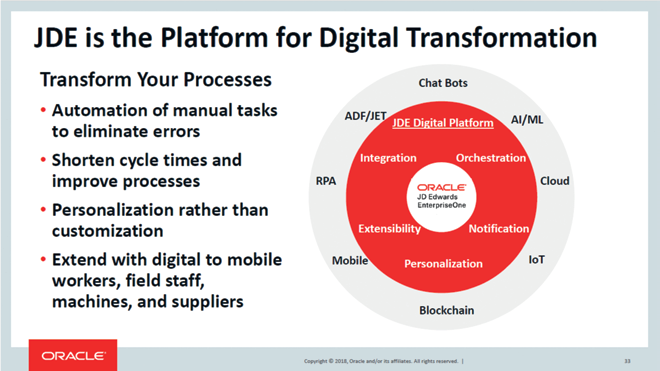 Currently, around 45% of the install base of Oracle JD Edwards is on 9.2. A year ago this was only 25%. Around 40% is on 9.1, which means only around 15% is on release 9.0 or older. Furthermore, we see an uptake of customers moving to 9.2 because of the longer support term and the continuous delivery of new functionality within the 9.2 release.
When customers are moving to 9.2 they are also considering moving to a code current strategy to apply a more minor upgrade instead of a major upgrade every few years. Currently we see our customers adopting a code current strategy as part of the managed services offering with an annual or bi-annual upgrade in the services mix.
Besides the features delivered by the product itself there is a growing number of Oracle JD Edwards customers adopting Oracle Cloud Technology in various ways. With the various Oracle cloud offerings, Oracle JD Edwards can be easily optimised, extended or complemented (Figure 3).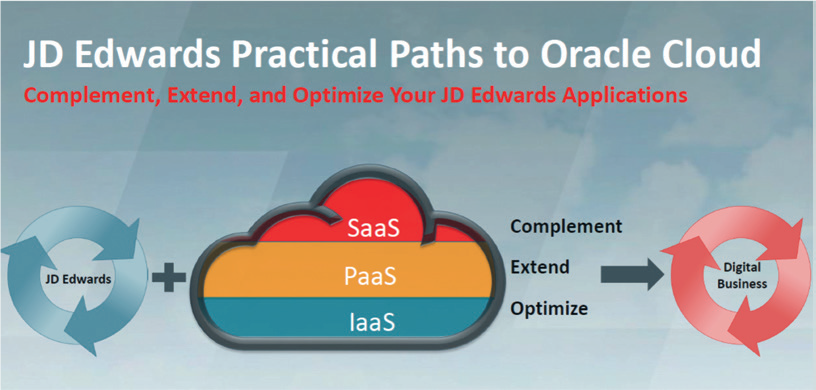 "Besides the support extensions, the Oracle JD Edwards product team in Denver has done great work in delivering substantial numbers of enhancements and new functionalities"
Optimise
Oracle JD Edwards can be optimised by running Oracle JD Edwards in the Cloud (Public or Private) and making use of all modern Infrastructure as a Service (IaaS) advantages such as scalability, security and flexibility. With the additional tools Oracle JD Edwards can be easily migrated to the Oracle Cloud Infrastructure, whether it is for 10, 100 or a 2,000 users.
Extend
You can extend Oracle JD Edwards with the Platform as a Service (PaaS) solutions Oracle can deliver. It is easy to extend Oracle JD Edwards with platform services like Oracle Mobile Cloud Services for mobile and low code solutions, Oracle Content and Experience Cloud to collaborate with document users internally and externally, or other services such as Oracle Integration Cloud Services, Oracle Blockchain, Oracle BICS and chatbots.
Complement
If you're looking for specific functionality which perhaps is not covered in Oracle JD Edwards you can complement Oracle JD Edwards with various Software as a Service (SaaS) offerings from Oracle. Integrate your Oracle JD Edwards with Oracle CX, Oracle HR or Oracle CPQ – just a few of the great options to complement your Oracle JD Edwards functionality.
With all developments at Oracle and within the Oracle JD Edwards product it is clear Oracle JD Edwards can remain or become the cornerstone of your digital transformation journey.
Not on 9.2?
Upgrade and make sure you are on the latest release and stay there! There are great partner companies which who can assist in planning and executing your upgrade, whether it is technical only or maybe full transformational to get rid of these legacy customisations you don't need anymore!
Already on 9.2?
Take advantage of all tools delivered with Oracle JD Edwards to optimise your business with further automating processes with Orchestrator and Notifications. Open up your golden records through Applications Programming Interface (API) connectivity and optimise user experience with all the new UX One functionalities to make your users' life easy.
If you want to know where to start, go to the UKOUG JD Edwards conference in December and talk to Oracle, partners and other Oracle JD Edwards users to share experiences, inspire each other with ideas and make sure your business continues to transform by keeping your ERP healthy and up to date.
"Is JD Edwards dead?" After this thoughtful analysis we can conclude that it is not! And there is a bright future ahead! Will I see you there?
By Jack van den Brink
Before you go
Feel free to ask us any question, ask for more information or simply say hello in this contact form.