Password Reset for JD Edwards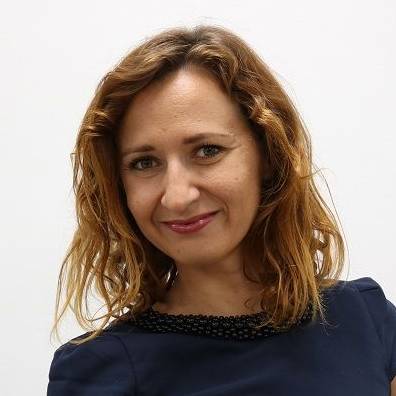 Author: Jana Duhackova
JD Edwards Consultant @Quistor
It is annoying, it happens to everybody in everyday life and it is a waste of time.
What is it?
Forgotten password.
We all know this story, you try a few times to access your account, with a password that you believe might be correct, and after few tries, the result is - your account is blocked...
We suffer from the same in our out-of-office life as well as during our business hours. But there is one big difference regarding how do you deal with the same situation - comparing private and company accounts.
When you lost your password or credential on some private commercial portal like e-shop or online media, normally all you need to do is to claim on the internet site that you do not remember your password and you will receive an email with instructions how to access your account.
However, in standard JD Edwards life, the same issue is usually treated differently.
Once an employee/user cannot access to some business application due to a wrong password (either forgotten or expired), he/she needs to contact IT service desk with a request to reset the password. And then the user waits for the support to resolve his ticket - while not being able to work.
And what is happening on the other side at the same time? IT support team receives a lot of tickets with various issues, one of the most common ones are password reset requests. To solve these tickets you do not need to be highly qualified. For most of service desk staff, this is just a routine, simple task which just takes their time from other things.
Do you also see it? Solving forgotten password in business nowadays is a lost time, both on the user side (who cannot perform his/her duties), and your expensive IT support experts (who cannot focus on more complex issues).
Does it have to be so complicated experience? Why it cannot be so easy with a forgotten password to my ERP system as with my commercial user account?
Well, there is good news, now it can be as easy as you can imagine with Quistor Password Reset Portal for JD Edwards E1.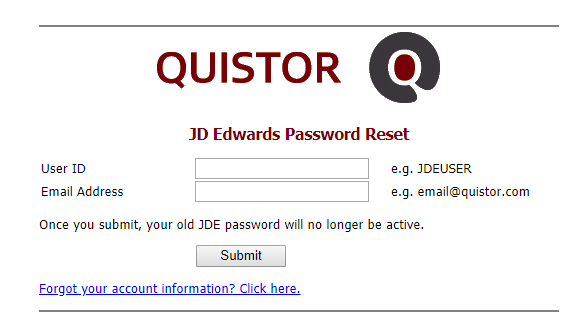 Based on extensive experience providing managed services to large, global environments of JD Edwards EnterpriseOne, Quistor developed the Quistor Password Reset Portal tool to enable end-users to reset their password by them self, instead of relying on the IT department. It is an intelligent tool that increases end-user productivity and saves you time and money.
User clicks on a "Forgotten password" link on his JD Edwards login page and is redirected to a self-service password reset website. Within seconds after the request, an email is sent to his/her email address with the new (temporary) password.
It truly is a simple solution which serves its purpose efficiently and its installation takes less than one day!
Key features and benefits:
Sel

f-service
24/7 availability
Own password policy
Login possible anywhere
'Secret' question configuration (optional)
Fulfils compliance - all the actions are recorded in an audit log
Saves money and time
Have a look by your own:
Before you go
Feel free to ask us any question, ask for more information or simply say hello in this contact form.